Goodbye Sweet Nursery | My Toddler's New Big Boy Room
Well…the time has come. The time has come to convert my son's room from a nursery to a "big boy" room. To say I am emotional is a huge understatement. When did we get here? Why did it all go by in such a flash? He was just born…literally. Ok, actually, he was born in November 2017…but, still…just born. He will be 2 in 12 days and I can barely utter any of those words in a sentence. He is a sweetheart – he is more than I could have ever imagined, plus some. I am so proud of the little boy he is, and the "big boy" he is becoming. But mama wasn't ready for all these firsts that come even after the first year. Not ready at all.
We are going to potty train the week of Thanksgiving. My husband is off work and my 13 year old will be with his mom for a week…so it will just be me, my husband, and my (then) 2 year old. Perfect setting for potty training. We are going to potty train based off the book "Oh Crap! Potty Training." I love this book. Talk about emotional! Wow. It's a good read (can't believe I'm saying that!).
One thing the author recommends is doing nighttime potty training simultaneously with day time potty training. She says that potty training is overall more successful when both are done at once. However, in order to nighttime potty train, you have to have a crib/bed that allows your child to get out in the middle of the night. We don't. Not now, at least. Our son still sleeps in his crib, happily so! I know, we're lucky. Very lucky.
So, in order to begin potty training, we have to adjust the crib (clickable picture and link below) and make it into a makeshift-toddler-bed (it comes with all those parts). We got it from Target when we were pregnant (I will link Target here, just in case you were born yesterday and don't know about all their goodness).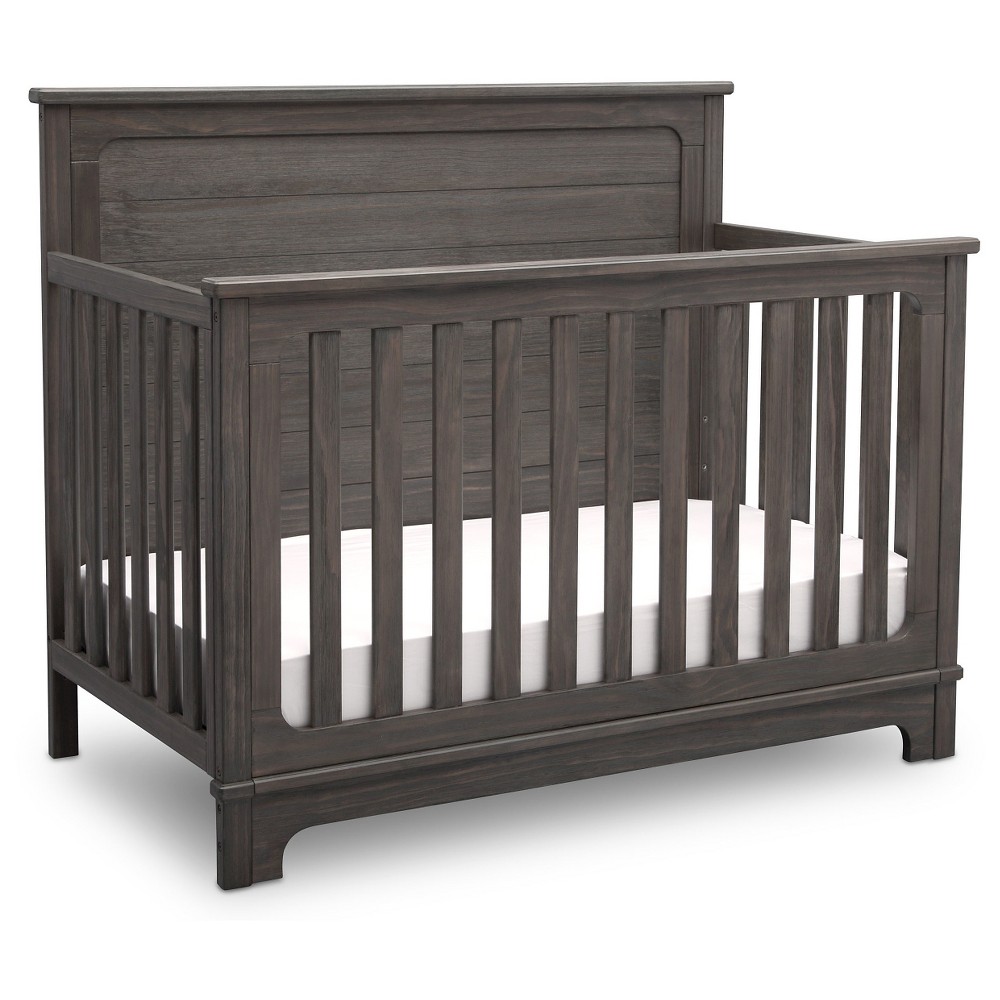 But ladies, mama can't just lower the crib without doing anything else in the room, can she?! Nope! She has to completely transform said room from a nursery into a big boy room. Yup. All for potty training.
It took me several weeks to get on board with this concept. I had to emotionally and mentally say goodbye to the nursery and to my little baby in order to get ready to plan for the new room. This was hard. Much harder than I had ever envisioned. But, now that those weeks are behind me, the tears are (mostly) gone, I am ready.
I have a plan. And I am so excited! We are going to do a vehicle-themed room. I don't want to say a truck theme or a car theme or construction theme because it's not that – it's all that combined, hence "vehicle."
Here's what I'm updating (and, by the way, you can follow me on YouTube to see all the videos of the nursery makeover.

Head here to do so

.):
1.) The bedding. Again, the bed is from Target and it's beautiful and thankfully comes with all the equipment to transform it. I have purchased the new bedding, (also in clickable picture below), but this bedding is just for the temporary time where he is still on a crib mattress.
Update: This blanket (below) is the most coziest blanket ever! It is made of such soft material and Harrison sleep under it every single night. He loves it. Highly recommend.
Once he moves to a full size bed (the bed adjusts), he will be in this bedding, which I got from Target. I bought it all already because I got a good deal from Target (free shipping because of my Red Card & also 20% off from Target Circle!). I will post the Target toddler bedding in a clickable picture below!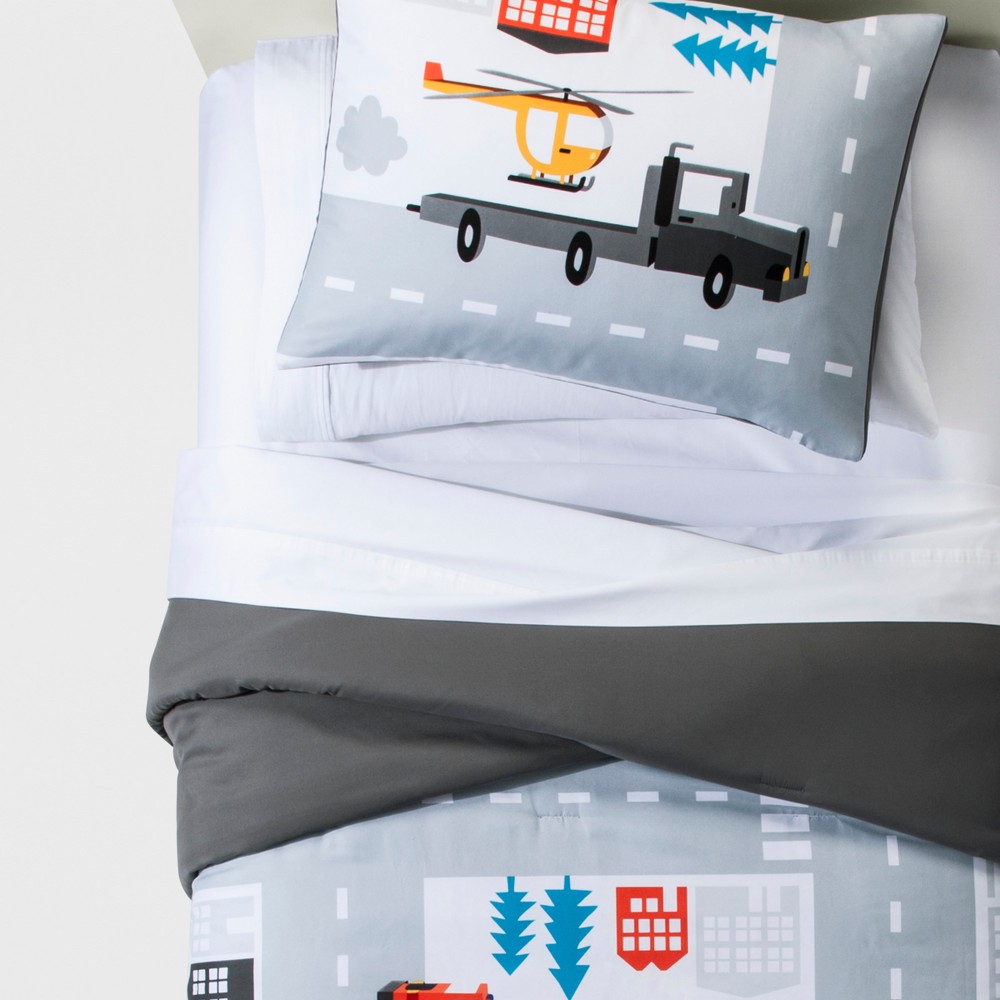 2.) The pictures above his changing table. The changing table is from Target as well (clickable picture below), same line as the bed, and will transform into just a dresser during this makeover. We now have pictures of three little baby woodland animals above the changing table, but I ordered these pictures of a yellow, blue, and red truck from Etsy and had them printed onto canvas from this company (which, if you use this link, you get 87% off and free shipping!) and just cannot wait to hang them! They all look so good.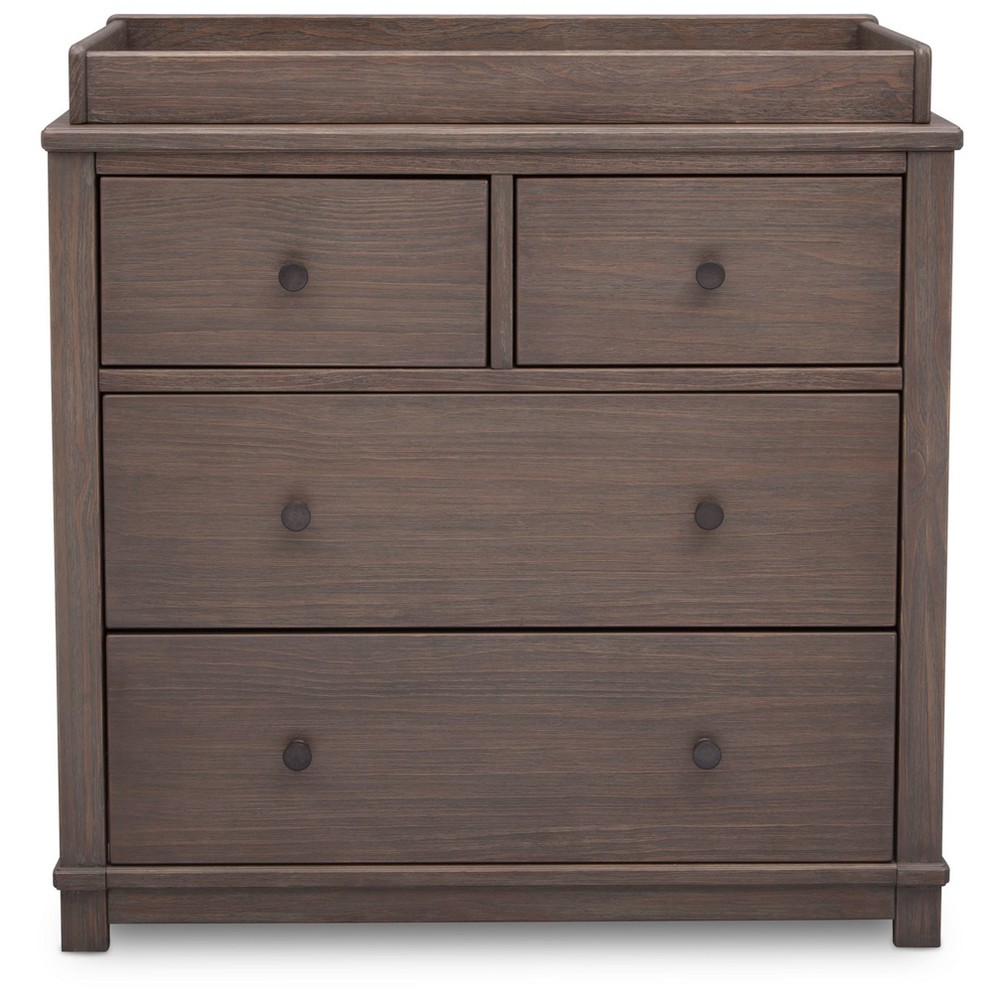 3.) His corner piece. That's all I know to call it, ha. You'll see it in my nursery video here but it is a custom-made piece from a lady in California that makes the best furniture ever! You can find her on Facebook under "Cre8tive Garage Therapy". Check her out! We are going to paint it. It's now a mint green to go with the nursery theme but we will be painting it white to go with the red, blue, and yellow vehicle color theme for his big boy room.
4.) His name banner. I originally ordered this off of Etsy when I was pregnant, and it has some woodland animals – so I need to find out how to update it or get a new one. Stay tuned.
Update: I ended up ordering this sign off of Etsy (in font "Emma" and 36″ Birch Wood) to hang above his crib and we are absolutely in love with it! Here's what the proof looks like & an example of a similar one hanging above a little girl's bed.
5.) His lamp. His lamps are just plain (which I like, easy to match as rooms change). But I bought this adorable firetruck lamp from Target and cannot wait to put it in his room! It really is adorable, but also simple, which I adore. It'll be perfect. You can find it below in a clickable picture.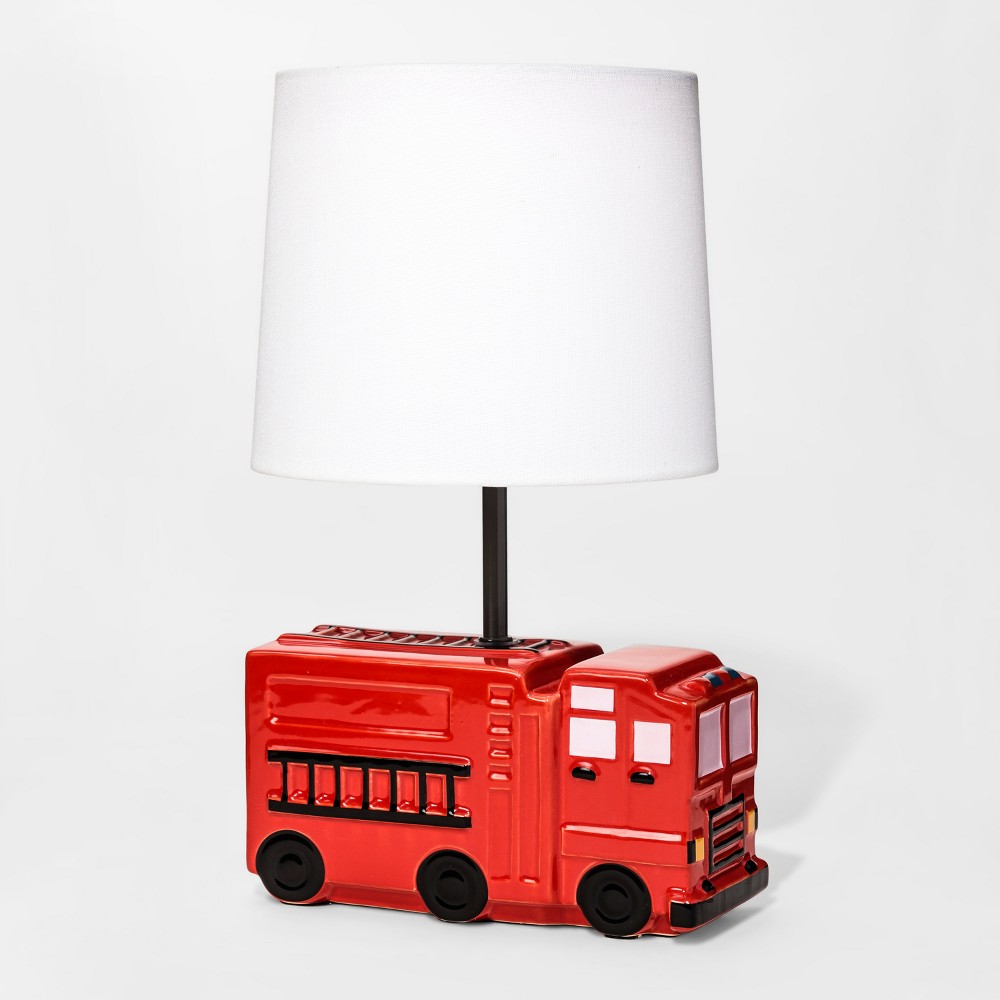 6.) His rug. We have two rugs from Ikea in the room now, but both will be gone (they're very nursery-ish). We have a rug that we got from Target (you can find it below in a clickable picture) that goes with the theme perfectly. We have been using it as a play mat for ages but now it will be a play mat in his new room.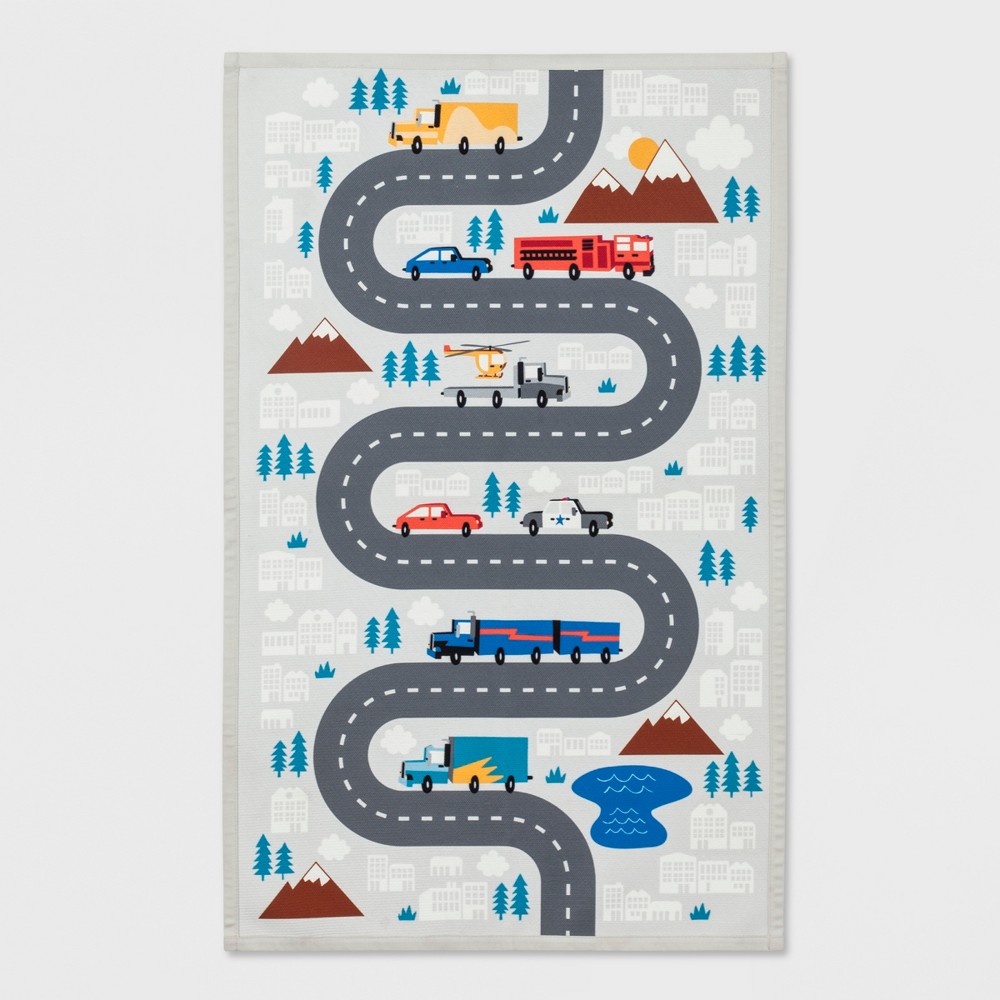 7.) A few odds and ins. I want to update a few picture frames in his room to put some recent pictures of him in, rather than all baby pictures (although I will keep some of the baby pictures in there, for sure!). I am going to paint a couple frames red and a couple white. Nothing too crazy. Also, I want to find a cool truck/car/plane that I can display as a piece of decor on his corner piece. Have yet to find the perfect one, but I know it's out there!
Update: I did order this end table off for his room. We needed a nice table to set beside the glider to hold all the books we read to him every night before bed (along with things like tissues, etc.). Here it is in the factory picture and also in Harrison's room:
Take Aways
I will post before and after pictures whenever it is all said and done, but this is the plan for now.
Update: Here is the final picture (well, one view point) of his updated room. I just love it, and so does Harrison!
Mamas, if you have a child getting ready to potty train, beware – it is more emotional than you think..and changing that beloved nursery – wow. Just heartbreaking, but eventually exciting. It's just a lot of emotions right now for this mama!
Let me know below if you have updated your child's room lately (or are planning to) and what your thoughts have been along the way!
Next Steps
If you're new to my blog, welcome! You can read more about me by going here.
If you happen to be a stepmom, please check out The Stubborn Stepmom – I have so many resources and so much support and help just for stepmoms there. Send a friend my way, too!
Are you a businesswoman? Are you in the blogging or social media business? If so, you will definitely appreciate Leslie W. Business Babes! Check me out there for all of your resources on starting or maintaining your blogging or social media business today.
If you'd like a little more to read, check out my recent posts on 8 Ways to Deal with Mom Guilt, How to Stay Calm & Reduce Anxiety during a Crisis, or 8 Easy Steps to Starting a Blog!
Thanks so much for reading, friends. As always, take care!